California Exotics COLT Expandable Butt Plug
September 4 2014
Master REALLY does like anal play. So we have many many anal toys but none as interesting as the Colt Large Pumper Plug Silicone Inflatable Butt Plug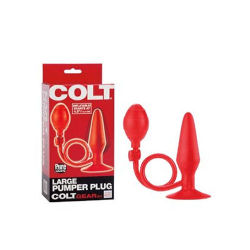 Now the idea behind this plug is to fill you up..literally. This rugged 6-inch rubber plug is solid as a rock when it's deflated, but attach the supplied pumping bulb and watch it inflate right up to a whopping 10 inches in circumference!
We have yet to get it to the full ten inches. I think that would scare me! But we have used it numerous times, upon insertation it feels just like a medium sized butt plug, therefore this really is a substantial butt plug,,,however a pump here, a pump there by the Master dude and soon my ass is filled full. Master really likes to play, so it is not unusual that during a session He pumps it up and lets out the air a few times before leaving it pumped while He fucks my pussy.
The pleasure is exquisite, having His cock in my pussy and the Colt Large Pumper Plug Silicone Inflatable Butt Plug in my ass.
This item cost 38.95 and is availabe in two colors either red or black (we have the black) and you can purchase it here
Colt Large Pumper Plug Silicone Inflatable Butt Plug