Plugged
July 2 2015
Master has taken a liking to keeping me plugged, for hours on end. He is using This plug and I am really surprised by how comfortable it is. Wearing a plug for an extended period of time can create a few issues.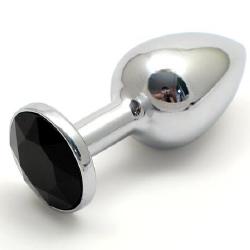 I think the first and probably most important one is hygiene. Every time I pee/poop, the plug has to come out and be cleaned and then re-inserted this means that I have to call Master... Every. Single. Time. The rules have always been for 15 years that I am not allowed to remove things/items/cuffs/ etc that He put on or in this case, put in.
Not like I have EVER had bathroom privacy before :)
But this takes it to a whole new level . He has fun with it, maybe He won't take it out so I can poop, I will just have to hold it in. Pee..really??? now??? wait. It really is embarassing, AGAIN and humilating and HOT!
So of course I use the facilities and then it is cleaned and I am bent over the bed and He shoves it up my ass...again. Off I go to do my chores.
Second issue I have is that it is distracting, REALLY distracting, it makes me hot and bothered and ya horny, and this makes it hard to do work, to deal with customers hell to even go out to the shop. Such a weird ass feeling to talk to people, or staff and feel a plug up your ass. So yes distracting.
And the last issues I have, is during the day, morning, noon or night, Master and I end up having sex. :)
Reality is none of these are REAL bad issues but having sex at 1:30 in the afternoon while people are working 100 steps away is quite....akward!! Not that it bothers Master. He just bends me over and fucks me. And of course when He is done, the plug has to come AGAIN, to be cleaned.
And then it starts all over again.
I have to say it is fun, and it keeps me in that headspace and it keeps me always wet and always ready for Him which is a bonus.
**********
Next topic STRESS - I find myself becoming nauseated when I think of everything happening this year. We cruise in a couple of weeks, and Aug is my birthday and it seems no matter how much I protest I will be getting something, sept is the bridal Shower, Oct is the Baby shower, Oct we cruises AGAIN, Nov is the wedding which means people from Canada here, as well as thanksgiving, Dec is Christmas and Jan 5 is the babies due date.
Add in the Sons new home which was DESTROYED by the tenants and well I have been over whelmed. Especially since we are paying for so much and now we are helping him re-build his new home. Ya I have been a little stressed and I swear we are bleeding money. His house, the wedding, the baby shower ARGH
All of it adds up to me being so stressed out, especially when I seen our sons new home. I wanted to puke. And the look on HIS face, how devastated HE was when He saw it after the tenants left..it was heart breaking and gut wrentching. I just wrapped him in my arms and told him it would be ok.
So here we are thousands of dollars later and his home is almost ready to live in. and I am stressed still having to pay for the rest of the wedding, the baby room and baby shower, argh
**breath in** **breath out** **breath in** **breath out**
About me
I am going to be a grandma