BDSM Terms and Definitions
0-9
24/7 (BDSM) - simply a relationship where the people involved live with one another on a daily basis. A BDSM 24/7 is easiest if explained as a vanilla live-in relationship, with the added knowledge of who is in charge and the priority of placing that person first and feeling content with the relationship arranged that way.
A

Abrasion As A Human Sexual Practice Involves sexual Arousal From Contact With Abrasive Substances. This Can Be person-to-person As In A Harsh Rubbing Of The Skin Known As A Dutch Rub Or With various Substances Such As Scratchy Wool Or Thistles. Use Of Harsh Abrasives such As Sandpaper Or Steel Wool Will Likely Cause Lasting Injury.

another Form Of Abrasion Play Is "Birching", Where A Person Is struck Or Brushed With Handfulls Of Twigs And Leaves. Similar Activity Is Done using Handfulls Of Sand.

Abrasion play is generally considered safe as long as the skin is not broken. If the skin is broken, even in tiny areas, the area should be disinfected and protected as with any open wound to prevent infection. Improper care can result in permanent scarring.

A Defence of Masochism - is a 1998 non-fiction book by Anita Phillips covering the topic of BDSM, which offers philosophical


Adult Baby - One who dresses and/or role plays the part of a baby or toddler.



Aftercare (BDSM) - For Aftercare in the normal sense of care, treatment, help, or supervision provided after discharge from hospital care, child welfare, prison, or other institutions or forms of care, see those articles or aftercare.

In the context of the sexual practice of BDSM, aftercare is the process of attending to an s-type (submissive, slave, bottom, etc) after intense activities of a physical, and/or psychological nature relating to BDSM activities. Aftercare goes above and beyond any possible necessity to treat and/or clean wounds (contusions, abrasions, punctures, lacerations, etc) from bloodplay or other BDSM practices. Though of course these necessities mustn't be overlooked.

After an intense "session", an s-type may be incapable of, or have real difficulty, moving without assistance, or communicating their needs clearly, thus requiring another to provide for her/his care (blanket, hydration, cleanup, food, rest, etc). These experiences can be (and usually are) exhausting, depleting the s-type's internal resources (physical, mental, and/or emotional). As a result, frequently the s-type requires emotional support, comfort, re-assurances, and/or physical tenderness. Along with this, he/she may experience everything from an exhiliration to tramatization (though every effort should be made to avoid the latter result, not "crossing the line" from sensory stress to actual damage and/or lingering unwanted effects to the s-type). It also includes a review or "de-briefing" of the activities from experiences of both the D-type (Dominant, Master, Top, etc) and the s-type. How soon this should occur, after such a "session", will vary, but should not be ignored, or omitted.

Submissives may report needing to be left alone or other means of processing the experience. While the desire to be left alone could stem from just needing rest, it could also result from she/he no longer feeling safe in the current environment/situation. The person in control of the event should always consider the wisdom of leaving alone a person in any state of exhaustion.


Age Play -Age Play: Scene or entire relationship in which one person, usually the submissive, dresses and acts as if younger in age, ranging from infant to adult child. May or may not include sexual relations. Does not usually include or imply aspects of incest or pedophilism, but rather the nurturing relationship of parent/child or teacher/student.

Algolagnia - Algolagnia is the paraphilia of deriving sexual pleasure from pain. Note that algolagnia is not the same thing as masochism, since there are fewer psychological connotations to algolagnia, which may be a simple liking for pain, without any need for domination, submission or humiliation.

alt.sex.bondage - was a Usenet newsgroup that was originally created as part of the alt.sex hierarchy, and rapidly became the center of an online BDSM community. The group was created in 1989, after Paul Traina attempted to start a flamewar by cross-posting provocative material to several newsgroups. The flamewar never materialized, but the sincere responses Paul received showed that there was a real need for the newsgroup.alt.sex.bondage

alternative sexuality - There are a variety of alternative sexuality practices and subcultures for people who hold that human sexual expression comes in a wide variety of forms which do not fall within the sexual norms of a society.


Anal Hook -anal hook: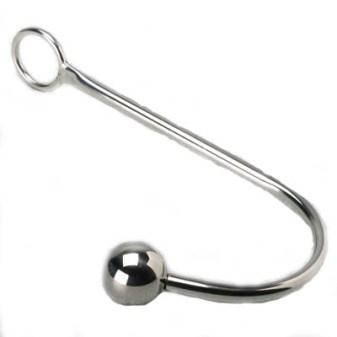 Often used in bondage and suspension bondage, it is placed in the anal opening and used as part of the suspension. Many people also use this as part of their bondage play, in that the hook is tied to rope and the rope is then tied to hair, preventing the wearer from putting their head down,


Anal Torture -anal torture: Inflicting pain on the anus through the use of anal plugs, insertables and items such as ginger (figging)


Anal Training -anal training: Inserting progressively larger objects (usually butt plugs) in order to stretch the anal sphincter, in preparation for such activities as anal sex and fisting.

ankle/wrist stocks -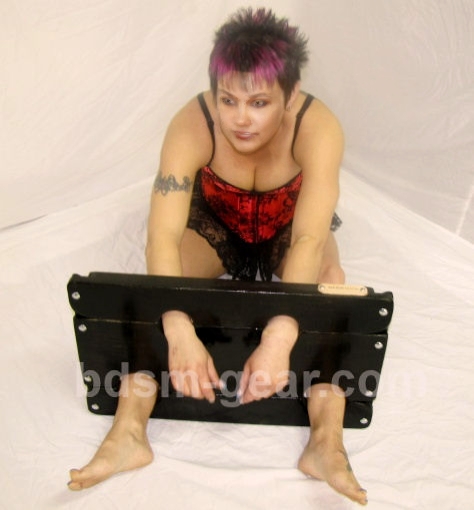 have been used as restraining devices for many hundreds of years, with examples finding their way into museums and displays. Stocks have a simple concept - to restrain an individual's ankles, wrists and/or head between the material used to form the stock assembly. There are three basic categories of stocks: little stocks, box stocks, and frame stocks. Little stocks are more mobile than the other two categories, while frame stocks are the largest of the three classifications. Frame stocks can have their own dedicated frame (the stock is a piece of freestanding furniture), or be mounted in a doorway, at the head/foot of a bed, on a horse, etc. When used in BDSM, stocks can have many purposes, from limiting mobility and personal freedom, to holding an individual secure as a form of discipline, for sexual stimulation, medieval role playing or sexual role-play and any variation in between.
animal transformation fantasy - are sometimes featured as a theme in fantasy or erotica as a sexual fetish. In these fantasies, human beings can change from human form to animal form, or behave as animals. One of the more well known facets of the fantasy include lycanthropy and vampire oriented themes. Animal transformation fantasies are popular with some elements of the furry fandom and those who participate in pony play.
Laura Antoniou - the author of The Marketplace books. The main thread through these books is the idea of the marketplace, a secret society of people dedicated to training and selling slaves to qualified masters/mistresses. The books consist of: * The Marketplace* The Slave* The Trainer* The Academy* The Reunion
Aran Ashe is an erotic writer from England published by Nexus Books. She specializes in stories of female submission in a fantasy universe involving spanking, piercing, and milk fetishism, among other things.
armbinder -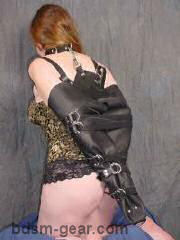 Often referred to as a single glove or single sleeve, the monoglove is the most prominent example of a class of restaints called armbinders that are used in sexual bondage.
ass worship - (or booty worship) is a BDSM practice in which a submissive kisses and licks the buttocks and/or anus of the dominant partner. It is considered by some as a particularly degrading form of domination and will usually involve the sub kneeling or in another lowly position, treating to person being worshipped as the dominant. In particular face sitting or smothering may be applied in order to emphasise the control of the dominant over the submissive. A queening stool may also be used to facilitate this activity. Ass worship most commonly involves a dominant woman and a submissive man.
As with other forms of oral-anal contact, ass worship can lead to infection by fecal bacteria and their toxins, viruses, or intestinal parasites if hygiene is not strictly observed. Feces can contain blood, allowing the transmission of blood-borne diseases. There is also the risk of transmission of sexually transmitted diseases that is associated with any transfer of body fluids.
asymmetric bondage - Asymmetric bondage is a type of sexual bondage which ties the bound person in asymmetric positions. This has a disorienting effect, confusing the body's self-image and sense of balance, and hence increasing the psychological impact of the bondage. Asymmetric bondage is a common technique in Japanese bondage.
anal torture - Anal torture is the BDSM practice of inflicting pain on the anus. This can include insertion of objects which produce a burning sensation, as in figging, or subjecting the anus to hot or cold temperatures.
B

B&D -- An acronym for bondage and discipline - A sexual activity in which a person is bound while another engages in "discipline" activities, such as spanking and whipping.


Bad Pain -- (see limits, good pain): Physical or psychological pain which is beyond what the recipient is capable of accepting without potential long-term physical or emotional consequence. Frequently arises from exceeding the recipient's limits, or failing to recognize signs of distress. Can lead to drastic consequences, including permanent physical damage, psychological side effects, ending of the relationship, even abandonment of the lifestyle.

ball bag --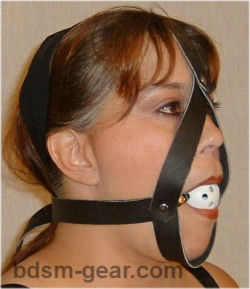 A ball gag is usually made of rubber or silicone in the shape of a sphere with a strap passing through its diameter. Ball gags are mostly used in BDSM activities, but they have been observed in the media, especially in a humorous or bizarre context.

balltie -- he balltie is one of the ties known in sexual bondage, with the tied person having the knees bent, head to the knees, hands behind back. The position is both very stringent and (as it is argued) stimulating.


Bastinado: -- Impact play involving the soles of the feet

BBW: -- Big Beautiful Woman


BDSM -- Bondage, Discipline, Domination and Submission, Sadism and Masochism

BDSM fashion -- BDSM fashion is typically very revealing fetishistic black leather or metallic plastic or PVC outfits with high-heeled boots and fishnet tights, derived from costumes worn in the BDSM scene.


Beating: -- The Top uses an implement to hit the sub.


Maria Beatty -- New York indie filmmaker, renowned for her exploration into the depths of female sexuality and fantasy

Barbara Behr -- is a fetish photographer , film director and magazine editor . She ran the HOM ( House of Milan ) bondage/fetish publishing.


Beastiality: -- also known as zoosexuality, is the practice of sex between humans and non-human animals (bestiality), or a preference or fixation on such practice.


Theresa Berkley -- The 19th century British dominatrix Mrs Theresa Berkley (died September 1836) ran a brothel in at 28 Charlotte Street

Berkley Horse -- is a BDSM apparatus, supposedly designed for, or by, Theresa Berkley in 1828.

According to the account of Henry Spencer Ashbee:
A notorious machine was invented for Mrs Berkley to flog gentlemen upon, in the spring of 1828. It is capable of being opened to a considerable extent, so as to bring the body to any angle that might be desirable. There is a print in Mrs Berkley's memoirs, representing a man upon it quite naked. A woman is sitting in a chair exactly under it, with her bosom, belly, and bush exposed: she is manualizing his embolon, whilst Mrs Berkley is birching his posteriors.
birching -- Birching is corporal punishment with a birch rod, typically given on the delinquent's buttocks or back. It was the most common school, home and judicial punishment in Europe up to the 19th century when caning gained increasing popularity.

Penny Birch -- Penny Birch is an erotic writer from England published by Nexus Books. She writes stories of female submission involving spanking, water-sports, and ponygirl.


Bisexual: -- A person open to sexual activity with both sexes. May still have a preference; or the attraction might depend more on the individual person than on their sex


Robert Bishop -- was an American bondage artist, often credited as The Bishop or simply Bishop. Born in Michigan, he has been compared with John Willie and described as the "Rembrandt of bondage art".

His work has been published extensively in bondage magazines, especially those of Centurions Publications and the bondage publisher House of Milan. His work was known for being very detailed and vivid.

bit gag --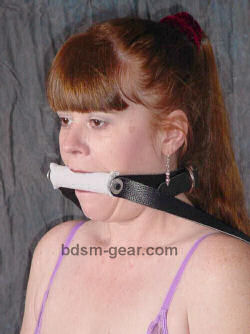 Gags are sometimes used in consensual BDSM play. They are also a common prop in bondage erotica.

Black Rose -- is a contemporary BDSM organization based in Washington, DC. It is a social group that hosts, among other things, educational classes revolving around BDSM activities, issues, and safety. The organization also hosts monthly socials and an annual national convention for the BDSM community.


Black Sheet Party: -- An Orgy for people into BDSM sex.

Bladder/Bowel Control --(1) Requiring the submissive to ask permission before using the toilet. (2) Training the submissive to be able to eliminate in the Dominant's presence, or even while being fondled. As an invasion of privacy, this can be a form of humiliation; it can also be used to foster the submissive's trust and acceptance of the Dom into the most intimate aspects of the sub's life.

Blanket Party --A form of hazing or "correction" reportedly employed in the military; a blanket is thrown over the victim's head, and they are then assaulted. Could be pervertible into a BDSM context as a form of "surprise party".


blindfold --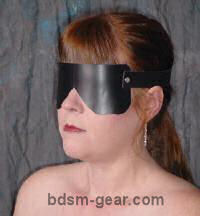 a cloth used to cover the eyes

Blood Play -- (See cutting or blood sports) The drawing of blood during play.

body modification -- Refers to any kind of procedure that deliberately changes or enhances the body for aesthetic or personal reasons, but especially certain forms of body art such as piercing, stretching, scarification and tattooing.

body piercing -- Body piercing usually refers to the piercing of a part of the human body for the purpose of wearing jewelry in the opening created. Body piercing is a form of body modification. The word "piercing" can refer to the act or practice of body piercing, or to a specific pierced opening in the body.

body service -- Body service refers to the attention a submissive gives to their Dominant's personal hygiene, ie. bathing, grooming.

body worship -- Body worship is a very general term for the BDSM practice of one person physically reverencing a part of another person's body. Typical are foot worship and ass worship.

Body Worship -- To show respect to every part of the Dominant's body, often by kissing, licking, or sucking. May involve ritual components.

bondage -- involves people being tied up or otherwise restrained for pleasure. Bondage is usually, but not always, a sexual practice. The paraphilia of being sexually aroused by bondage is sometimes known as vincilagnia. Studies in the U.S. have shown that about three quarters of all men find the idea of bondage to be erotic; many women do as well. As with any study of sexual thoughts and behavior, the available studies are not well controlled and the best studies are now out of date.

bondage and discipline -- BDSM is a term which describes a number of related patterns of human sexual behaviour. The major subgroupings are described in the abbreviation "BDSM" itself:*Bondage (BD)*Bondage & Discipline (B&D)*Domination & submission (D&S, DS, D/S)*Sadism & Masochism (or Sadomasochism) (S&M, SM)

bondage belt --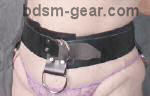 is a wide waist belt used in bondage, sporting D-rings or attachment points. It is a physical restraint popular in BDSM play and usually used as an anchoring point for other restraints such as bondage cuffs. Bondage belts may also be worn as fetish clothing.
Most bondage belts are made of fabric or leather as these materials tend to be more comfortable and better distribute pressure over the skin. The belts usually fasten with buckles; some feature locking means.
The belt itself should never be used to hold one's weight in suspension bondage, as it may slip upward to bear pressure on the lower ribs and/or cut into the diaphragm and interfere with breathing.
Medical restraints similar to bondage belts exist for institutional use as bed and wheelchair restraints.
Lengths of simple leather strapping with buckles are sometimes also referred to as bondage belts, because they can be used quickly to bind limbs.
bondage cuffs --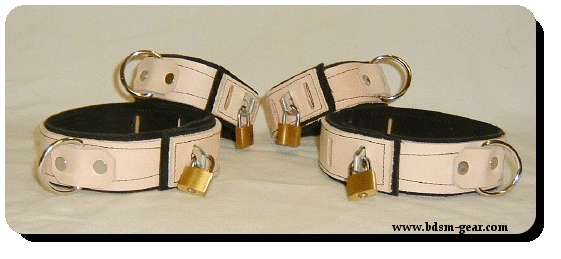 restraints designed for the practice of consensual sexual bondage. They are wide wrist and ankle restraints generally made of leather, often padded with soft leather or fake fur. They are secured around the wrist or ankle, and the cuff is then attached to another cuff or other object.
They are often equipped with D-ring attachments or buckles to fit nylon webbing restraints.
They are typically used as a set of four to attach each wrist cuff (directly or indirectly) to the corresponding ankle cuff, thus putting the wearer in a sexually vulnerable position. This is a convenient way to create a hogtie. Alternatively, a pair of ankle cuffs can be used together with thigh-width straps to create a frogtie.
They can also be used in conjunction with leg spreaders.
Bondage cuffs are designed to be safer than handcuffs. The use of handcuffs, even with soft coverings, for bondage can, in some instances, lead to severe and permanent damage of nerves, blood vessels, and body extremities. Unlike bondage cuffs, the primary design goals of handcuffs are not comfort and safety, but immobilization and prevention of escape.
Ordinary bondage cuffs are not designed to be safe when used to carry any significant load. Suspension cuffs are a specialized form of bondage cuffs, designed to be used to suspend the body during suspension bondage without injury.
bondage equipment -- any item that assist in bounding another individual
bondage furniture --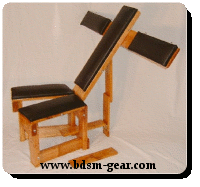 racks, kneelers, riding horses are all considered bondage furniture also called Dungeon furniture in a BDSM sense.
bondage harness --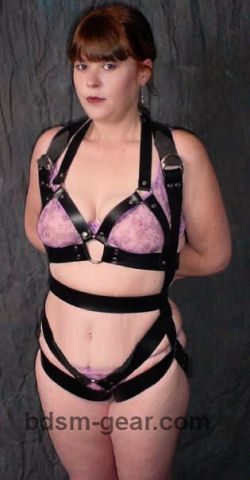 is a series of leather straps, typically between 1 and 2 cm wide, attached together in such a way as to allow a person to "wear" the item. The item can be worn by both men and women. However, modifications may be needed depending on which sex wears the item. The item is very closely associated with BDSM play, and is often immediately identifiable as being something to do with "bondage" when depicted. Often, the image of a person in a bondage harness is used by movie studios to provide a chiché of a "person into fetish play". Other publications have also been known to use this cliché, a good example being the comic book series and movie "Sin City", which has one of its characters wearing a bondage harness.
bondage hood --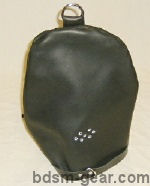 a gimp mask or bondage mask) is a fetishistic hood.It may be made from rubber, latex, PVC, spandex, darlex or leather.
bondage magazine -- pornography specializes in the depiction of sexual bondage or BDSM activities, as photographs, ...
bondage mitten (or mitt) --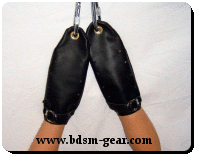 (sometimes called bondage mitts) are pouch-like coverings that fasten securely around the wrists, holding the hands in closed fists or palms flat. They are often used in BDSM play.
Unlike mittens for cold-weather use, bondage mittens are tubes or bags without a separate thumb and are typically made of leather or some other stiff material to prevent the wearer from grasping through the material of the mittens. With the 'palms flat' type they can either be stiff and close-fitting making it impossible to close the hand into a fist or supple allowing the hand to be bent over and fixed to the wrist. Both types often include a ring at the tip to which ropes can be connected for further tying-up.
Similar mitten-like devices exist for institutional use as patient restraints.
bondage opera gloves -- Lace up bondage sleeves that usually have D rings to fasten and buckles to keep it on the arms
bondage position -- any position used in a Bondage situation for BDSM play
bondage rigger -- bondage rigger is person who ties up others primarily as an art form, as opposed to people who do this to immobilize a bottom to prepare them for other forms of BDSM like flogging.
bondage rope harness -- sometime also referred to as a bondage web, rope web, rope dress or karada, is a bondage technique involving the tying of an intricate structure of rope around the body in a complex web-like fashion.
Similar in effect to a leather bondage harness, a bondage rope harness is not in itself normally used to bind a person, but it does apply pressure over the area bound and can be used as a securing point for other bondage techniques, including suspension bondage. It is not normally used to bind the limbs but you can bind the arms into the harness by simply going around the arms not under, as shown in the picture. A rope dress is often used with, or integrated with, a crotch rope and/or a shinju ("pearl") breast harness.
A rope dress typically takes around 10-15 m of rope to tie, and involves multiple passes of rope from front to back around the body to build up the characteristic diamond-shaped rope pattern, typically starting from a rope halter (as in the illustration) and moving down the body. In some cases, a rope harness may extend beyond the torso, into diamond-patterned webs that extend down the length of the arms or legs.
The Japanese term karada means simply "body". Traditionally, a distinction was made between kikkou ("turtle-shell" pattern; hexagonal) and hishi (diamond) patterned ties, although many modern sources just use the term kikkou to refer to any rope body harness
bondage sushi bar -- often referred to as "body sushi", is the practice of eating sashimi or sushi from the body of a woman, typically naked. As a result of being served on a human body, the temperature of the sushi or sashimi comes closer to body temperature, which some may see as a disadvantage or a benefit.
bondage table --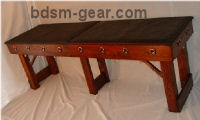 A table designed specifically for bondage. Normally contains 20 or more bondage points. Usually covered in leather or vinyl
bondage tape --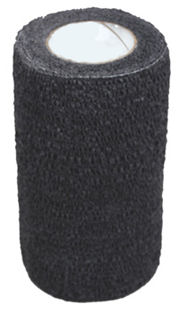 is a 2-3 inch wide strip of thin plastic material that adheres only to itself, without any adhesive, that is typically intended to be used in erotic bondage. Since it does not stick to the hair or skin, a bottom can be tightly bound and/or gagged without causing harm when the tape is removed.

Some tape is thick enough that it can be unwound, unwrinkled and rewound for reuse, but usually it is simply and quickly removed by cutting it with blunt-tipped scissors.

If the tape is applied relatively flat on the body, the risk of losing circulation is minimal. However, until the top has sufficiently practiced, the tape is easily twisted, in which case it becomes like plastic string and thus more likely to pinch and possibly cause a loss of circulation.

bondage trousers -- the clothing often worn in the BDSM scene, and which is usually erotic or revealing in nature. Materials such as leather, latex, nylon, rubber and pvc, spandex and fishnet are common, as are items of clothing such as stiletto heeled shoes and boots, corsets and garters. BDSM-specific items such as collars and face masks are also sometimes worn.

bondage wheel -- one of the largest (and most expensive) pieces of SM equipment found in a BDSM dungeon. It consists of a large vertically mounted rotating wheel to which the bondage subject is strapped. In this respect it is similar to a Saint Andrew's Cross. The difference is the bondage wheel can be rotated allowing the subject to be turned upside down. The subject can either be strapped facing the wheel (suitable for whipping) or facing out (for genital access).

The wheel body has various straps for restraint and normally also attachments for extra rope bondage. There may also be foot rests, hand holds and a head support. The vast majority of bondage wheels are mounted on walls and there are only two known self standing wheels in the United States.

Bootblack --One who does military style shoe polishing

boot worship -- is a term for the practice of extreme adulation of boots in BDSM.

It is related to foot worship in a derivative way, in that the adulation may really be attributable to the proximity of the boots to their owner. If the foot is usually considered one of the "lowest" and least appreciated parts of the body, the "sub"'s reverence for the footwear that encloses her or his dom's foot is a concrete admission of inferiority.

Thus boot worship may include sniffing or inhaling from worn boots, as well as licking, kissing or cleaning their exteriors. It may also consist, more passively, of the woman or man lying prone and being "trampled" by her or his dom. Heeled boots may lend themselves to sucking, in an approximation of fellatio.

bottom (BDSM) -- refers to the person who takes on the submissive role for the duration of a scene. This term is associated with being on the receiving end of bondage, discipline, and sadism. (Note: this term has significant connotative differences from submissive or slave.) They may be involved in such acts as bondage, flogging, humiliation, or servitude from the top.

BoundCon -- is an annual BDSM convention and trade show held in Munich, Germany, around the middle of June. It features live performances by bondage models and bondage riggers, exhibition of BDSM literature and video suppliers, and a "VIP area" with an exclusive buffet.

brachioproctic eroticism -- Fisting is a human sexual behaviour that involves inserting the entire hand, and sometimes part of the arm, into the vagina (vaginal fisting) or anus (handballing or anal fisting) of a sexual partner. Fisting is also called fist fucking, sometimes shortened to "FF". The medical terms for these practices are brachiovaginal eroticism and brachioproctic eroticism (anal).

brachiovaginal eroticism -- Fisting is a human sexual behaviour that involves inserting the entire hand, and sometimes part of the arm, into the vagina (vaginal fisting) or anus (handballing or anal fisting) of a sexual partner. Fisting is also called fist fucking, sometimes shortened to "FF". The medical terms for these practices are brachiovaginal eroticism and brachioproctic eroticism (anal).

Gloria Brame -- U.S. writer and sex therapist based in Athens, Georgia. She has a PhD and MPH in Human Sexuality and is a licensed clinical sexologist. Her practice specializes in consensual BDSM and sexual fetishism. She is also a lifestyle dominant.

branding (BDSM) -- in the BDSM context, refers to the bonding of the partners and marking of the collared submissive. When branding, a singular, or many, pieces of metal are heated and then placed upon the skin to burn, leaving a design of some sort.

Brat --A "bratty" submissive has a reputation for talking back, being disrespectful or mildly disobedient. On the surface, this is a negative quality in a submissive; however, a certain amount of "brattiness" is enjoyed by some Dominants, and may in fact be a large component of a power exchange relationship

breast bondage --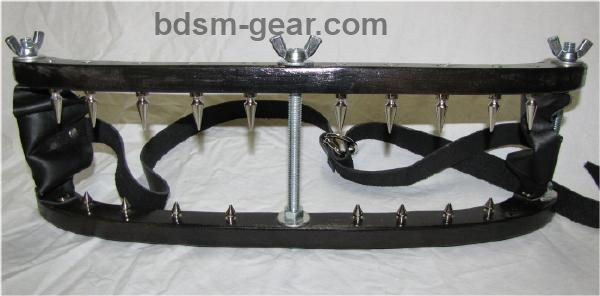 is a technique used in BDSM play. It differs from most bondage techniques in that it is not intended to restrict the mobility of the tied person directly. However, it can do so indirectly when it is combined with other techniques. Rope is usually used, due to its ease of use, but leather straps and even chains can also be used. A bondage harness can also be used to achieve the same effect as breast bondage.

breathplay --Erotic asphyxiation, asphyxiophilia, breath control play, or scarfing, is the practice of intentionally reducing the amount of oxygen to the brain during sexual stimulation in order to heighten the received pleasure from orgasm.

Brown Shower --Defecation on a person Bukkake --Japanese term for a woman being showered by sperm.

bullwhip -- is a single-tailed whip, usually made of braided leather, which was originally used as a farmer's tool for working with livestock.

butch -- is a common nickname, particularly in the 19th and 20th centuries. It also refers to a woman, usually a lesbian, who self-identifies as such or whose appearance and/or mannerisms are more masculine than would be considered "tomboyish."

butt hook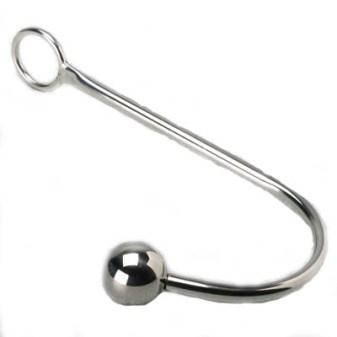 (BDSM) -- or an ass hook is a smooth, J-shaped hook about an inch in diameter, with a smoothly rounded end designed to be inserted into the anus for bondage (BDSM) and BDSM play. The hook generally has an attachment point or eye at the other end for a rope or a chain. Common uses include affixing the hook to the wearer's hair or anus as a non-load bearing element in a suspension.
butt plug -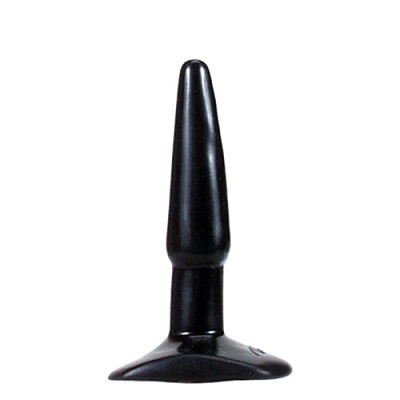 are sex toys designed to be inserted in the anus and rectum for sexual pleasure. In some ways, they are similar to a dildo, but they tend to be shorter, and to have a flared end to prevent the device from being lost inside the rectum.

The users of butt plugs include men and women of all sexual preferences.

BYOT --Bring your own toys. Acronym often used in meeting announcements. An excellent measure to discourage the possible spread of disease.

We hope this information has been of some assistance to you.