BDSM Terms and Definitions
S

S&M -- sadism and masochist in the BDSM sense some may also state the "S" stands for submission

Leopold von Sacher-Masoch -- best known for his name being the basis for the term masochism.

Marquis de Sade -- His is a philosophy of extreme freedom (or at least licentiousness), unrestrained by morality, religion or law, with the pursuit of personal pleasure being the highest principle. Though never convicted of any crime, Sade was incarcerated in various prisons and in an insane asylum for 29 years of his life; much of his writing was done during this time. The term "sadism" is derived from his name.

Sadism and masochism in fiction -- In general, the depiction of sadism and masochism in fiction tends to be portrayed from the viewpoint of masochistic fantasy.

sadomasochism -- Sadism is the sexual pleasure or gratification in the infliction of pain and suffering upon another person. The word is derived from the name of the Marquis de Sade, a prolific French philosopher-writer of sadistic novels, plays, and a unique philosophical discourse that championed the infliction and reception of extreme pain as an art form that to him was both sublime and beautiful. The counterpart of sadism is masochism, the sexual pleasure or gratification of having pain or suffering inflicted upon the self, often consisting of sexual fantasies or urges for being beaten, humiliated, bound, tortured, or otherwise made to suffer, either as an enhancement to or a substitute for sexual pleasure. The name is derived from the name of the 19th century author Leopold von Sacher-Masoch, known for his novel Venus in Furs that dealt with highly masochistic themes.

Sadism and masochism, often interrelated (one person obtaining sadistic pleasure by inflicting pain or suffering on another person who thereby obtains masochistic pleasure), are collectively known as S&M or sadomasochism.

safer sex --is a set of practices that are designed to reduce the risk of infection during sexual intercourse to avoid developing sexually transmitted diseases (STDs). Conversely, unsafe sex refers to engaging in sexual intercourse without the use of any barrier contraception or other preventive measures against STDs.

Safe sex practices became prominent in the late 1980s as a result of the AIDS epidemic. From the viewpoint of society, safer sex can be regarded as a harm reduction strategy. Safe sex is about risk reduction, not complete risk elimination.

safe, sane and consensual -- is one of several phrases used by a large section of the BDSM and sexual bondage communities to describe themselves and their philosophies who regard SSC to be a watchword for safety.

The principles are that BDSM activities should be:



safe: attempts should be made to identify and prevent risks to health

sane: activities should be undertaken in a sane and sensible cast of mind

consensual: all activities should involve the full informed consent of all parties involved, but note that legal consent may not create a defence to criminal liability for any injuries caused and that, for these purposes, non-physical injuries are included in the definition of grievous bodily harm in English law.



Other people in the BDSM community do not consider SSC to be an accurate term for these relationships/activities. The term Risk Aware Consensual Kink (RACK) is sometimes used as a substitute description.

For those who dissent, issues generally arise from the subjective nature of each term in SSC when using the term as a yardstick to evaluate activities. It can be argued that the terms in RACK are equally subjective. "How safe is safe enough" is a legitimate question, and "how aware is aware enough" is an equally legitimate question.

Most attribute the term to David Stein who coined it in 1984 for GMSMA. More information can be found in the essay titled Safe Sane Consensual: The Evolution of a Shibboleth, in which he states that the term was developed "to distinguish the kind of S/M I wanted to do from the criminally abusive or neurotically self-destructive behavior popularly associated with the term 'sadomasochism'."

safeword --is a codeword or series of codewords that are sometimes used in BDSM to mean that a bottom or submissive is reaching a limit or for the Top/Dom to stop the sceneplay. Safewords are agreed upon before playing a scene by all participants. Many organized BDSM groups have standard safewords that all members agree to use to avoid confusion at organized play events.

Samois -- was a lesbian-feminist BDSM organization based in San Francisco and existing from 1978 to 1983. It took its name from the fictional estate of Anne-Marie, a lesbian dominatrix character in Story of O, who pierces and brands O. Well-known members of the group included the writer Pat Califia and feminist academic Gayle Rubin.

Saint Andrew's Cross (BDSM) --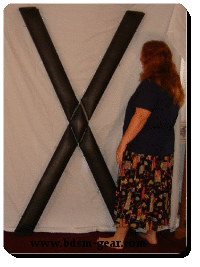 A saltire, Saint Andrew's Cross, or crux decussata is a heraldic symbol in the form of a diagonal cross or letter X, though it is never called the letter X in heraldry. Legend relates it to a diagonal cross that Saint Andrew is said to have been martyred on.
scarification -- is a permanent body modification that uses scar tissue produced by the body to form designs, pictures, or words in the skin. Scars are most often formed by cutting or branding the skin. Scarification is sometimes called cicatrization
scene (BDSM) -- scene is a complete encounter. It may or may not involve sexual activity.
It may help to think of a scene as the BDSM equivalent of what might be considered a romantic interlude or erotic encounter. While what constitutes such an encounter will vary depending on the people, kink and lifestyle involved almost everyone in the community uses the term.
A scene can take place in private between two people, or in a club where it can be viewed by an audience. When a scene takes place in public it may be because the participants enjoy the thrill of being watched by others, or because of the equipment available, or because having third parties present adds safety for play partners who have only recently met. There is an etiquette in most clubs which regulates how the onlookers may interact with the people in the scene.
self-bondage -- is the practice of sexual bondage without a partner. This means tying or otherwise restraining oneself for the purpose of sexual pleasure. The idea of self-bondage can also be extended by using release mechanisms to restrain two (or more) people for a period which they cannot control. As self-bondage is usually performed alone, it has several distinctive features not present in conventional bondage
Terence Sellers -- an American author and psychologist, specializing in sadomasochism.
sensation play (BDSM) -- is a class of activities meant to impart physical sensations upon a partner, as opposed to mental forms of erotic play such as power exchange or sexual roleplaying.
Sensation play can be sensual, where the sensations are generally pleasing and light. Many couples that would not consider themselves active in BDSM are familiar with this kind of play: the use of silk scarves, feathers, ice, massage oils, and other similar implements.
Sensation play in BDSM can also involve sadomasochistic play, involving the application of carefully controlled stimuli to the human body so that it reacts as if it were actually hurt. While this can involve the infliction of actual pain, it is usually done in order to release pleasurable endorphins, creating a sensation somewhat like runner's high or the afterglow of orgasm, sometimes called "flying" or "body stress".
sensory deprivation -- the deliberate reduction or removal of stimuli from one or more of the senses. Simple devices such as blindfolds or hoods and earmuffs can cut off sight and hearing respectively, while more complex devices can also cut off the sense of smell, touch, taste, thermoception (heat-sense), and 'gravity'. Sensory deprivation has been used in various alternative medicines and in psychological experiments (e.g., see Isolation tank), and for torture or punishment.
Though short periods of sensory deprivation can be relaxing, extended deprivation can result in extreme anxiety, hallucinations, bizarre thoughts, depression, and antisocial behavior
sensual play -- a generic term which refers to a variety of forms of sensual play. It must be understood that sensual, as referred here, does not mean (or relate to) only sexual appeal.
service-oriented submissive -- is a term used in the BDSM community to refer relationship dynamic.In a service-oriented relationship, the focus is on how the submissive can contribute resources to the dominant partner, provide for some of their needs or advance their goals. These relationships may or may not also include romantic feelings.A common example of such a relationship would be one in which the submissive and dominant were romantically attracted and the submissive is collared to the dominant, indicating that they are "in service" to that dominant. The collar may well be predicated on certain performance levels or the usefulness of that submissive in specific areas. If those things were to change or dissipate the couple may remain romantically linked but often the collar will be removed.
For the submissive in such a relationship, the collar is seen as a status symbol signifying the approval and acknowledgement of a person they wish to serve. They often take great pleasure and pride in their status and relationship.
For the dominant, the benefits are practical as well as emotional. Many take great pleasure in being 'served' in this manner, and of course having the additional resources available is of immense utility.
service-oriented top -- is a term used in the BDSM community to refer relationship dynamic.In a service-oriented relationship, the focus is on how the submissive can contribute resources to the dominant partner, provide for some of their needs or advance their goals. These relationships may or may not also include romantic feelings.A common example of such a relationship would be one in which the submissive and dominant were romantically attracted and the submissive is collared to the dominant, indicating that they are "in service" to that dominant. The collar may well be predicated on certain performance levels or the usefulness of that submissive in specific areas. If those things were to change or dissipate the couple may remain romantically linked but often the collar will be removed.
For the submissive in such a relationship, the collar is seen as a status symbol signifying the approval and acknowledgement of a person they wish to serve. They often take great pleasure and pride in their status and relationship.
For the dominant, the benefits are practical as well as emotional. Many take great pleasure in being 'served' in this manner, and of course having the additional resources available is of immense utility.
servitude (BDSM) -- is performing tasks and following orders as an aspect of being submissive.Some submissives gain pleasure and satisfaction from performing services for their dominants, such as serving as a chauffeur, butler, houseboy, or maid.The pleasures of servitude are often combined with the pleasures of fetishes, the pleasures of humiliation, or both. A submissive may rub his or her dominant's feet because the sub enjoys providing the service, has a foot fetish or enjoys being "lower" than the dominant, or any combination.The servitude may also enjoy being collared and leashed, and in some aspects being treated like an animal. Leashes can also be attached to piercings.
sexual bondage -- bondage involves people being tied up or otherwise restrained for pleasure. Bondage is usually, but not always, a sexual practice. The paraphilia of being sexually aroused by bondage is sometimes known as vincilagnia.Studies in the U.S. have shown that about three quarters of all men find the idea of bondage to be erotic; many women do as well. As with any study of sexual thoughts and behavior, the available studies are not well controlled and the best studies are now out of date
sexual fetishism -- The basic idea of sexual fetishism is sexual arousal and satisfaction through an inanimate object, the fetish. The concrete definitions are not only differing but even contradictory: In psychology, fetishism is a paraphilia, a sexual psychic disorder. The diagnosis of fetishism is justified only if the additional criteria of paraphilia are fulfilled, above all only if the affected person suffers or harms other people. According to the International Statistical Classification of Diseases and Related Health Problems (ICD), fetishism is the fixation on an inanimate object, while according to the Diagnostic and Statistical Manual of Mental Disorders (DSM), fetishism is the fixation on an inanimate object or a body part.
sexual identity -- is a term that, like sex, has two distinctively different meanings. One describes an identity roughly based on sexual orientation, the other an identity based on sexual characteristics, a concept related to, but different from, gender identity
sexual perversion -- sexual deviation (in Greek para παρά = besides and '-philia' = love) - in psychology and sexology, is a term that describes a family of philias that reference sexual arousal in response to sexual objects or situations which may interfere with the capacity for reciprocal affectionate sexual activityParaphilia is also used to imply non-mainstream sexual practices without necessarily implying dysfunction or deviance. Also, it may describe sexual feelings toward otherwise non-sexual objects. An individual who expresses paraphilia may be known as a paraphile.
sexual roleplaying -- is the sexual behavior of playing some kind of character during a sexual encounter, in order to evoke a sexual fantasy in oneself and/or one's partner. This should not be confused with other types of roleplaying, such as improvisational theatre or role-playing games.
shackles --Fetters, shackles or leg irons are a kind of physical restraint used on the feet or ankles. The term "fetter" shares a root with the word "def".
In humans, typically only prisoners or bondage fetishists will wear shackles. A shackled animal is typically either a dangerous animal or one prone to escape.
Metaphorically, a fetter may be anything that restricts or restrains in any way, hence the word "unfettered".
shibari -- a Japanese verb that literally means "to tie" or "to bind" it is used in Japan to describe the artful use of twine to tie objects or packages. Kinbaku is the word for "bondage" or Kinbaku-bi which means "beautiful bondage". Kinbaku (also Sokubaku) is a Japanese style of sexual bondage or BDSM which involves tying up the bottom (or uke) simple yet visually intricate patterns, usually with several pieces of thin rope (generally 6mm or 8mm). The word Shibari came in to common use in the west at some point in the 1990s to describe the bondage art Kinbaku.
shinju (BDSM) --meaning pearl) is a torture technique applied to women in the Japanese bondage technique. It is also popular in BDSM sexual play, especially bondage. Humiliation with mild or severe pain is caused by tying different kinds of ropes and knots round women's breasts. Breasts can be tied to look like grapefruits or they can be pressed flat. This technique may cause serious damage if the bloodflow to breasts is interrupted for too long.
However, classic shinju is not related to torture. It is done by encircling the torso with rope, both above and below the breasts, sometimes with cinches between the arms and the body.
This becomes a secure platform for subsequent ties. For example, if the shinju is not too tight, one can tie the arms wrist-to-elbows behind the back to form a box tie.
SIGNY award --are awarded to performers, artists, photographers and riggers, writers and models in the field of bondage erotica.
slave (BDSM) -- is a term often used in BDSM to connote a specific form of submissive. A sexual roleplay or consensual slave could also be a masochist or bottom, but this is not always the case.Connotatively it refers to highly committed domination and submission (commonly abbreviated as D/s) relationships, as a person who has surrendered their personal property and freedoms to another, who has become the property or chattel of their owner(s). This term is widely used, as it has a certain self-affirming weight.Some practitioners feel the difference between submissive and slave is the degree of submission. However, many who are involved in Master/slave relationships see the difference as one in kind, not in degree. In particular, some slaves do not have a naturally submissive personality, but simply choose to surrender their will and volition to another.
It should be noted that the Owner/slave relationship is entered into on a strictly consensual basis, without the legal force of historical or modern non-consensual slavery. It is also worth mentioning that the laws of all countries (for example the Thirteenth Amendment to the United States Constitution) strictly forbid the practice of slavery.
Various forms of symbolism are sometimes used to affirm the Owner/slave relationship, such as wearing the owner's collar, being registered in a slave register, adopting (sometimes legally changing to) a name chosen by the owner, or engaging in a public declaration or ritualized ceremony of some type. Some people draw up a slave contract that defines the relationship in explicit detail, but these have no legal weight and are therefore not intended to be used in any court of law.
In some traditional rituals, after signing a slave contract, many people celebrate the commitment to the relationship with a collaring ceremony, which can be simple or elaborate and friends are usually invited. The slave then wears a collar, which symbolizes their status. The collar may be an actual piece of neckwear, or may be a bracelet or other piece of jewellery that symbolizes their slavery. These collars are generally never removed unless or until the relationship is dissolved, although some slaves exchange a formal collar for a more subdued (or less obtrusive) one in work and vanilla situations.
There is considerable debate over the exact definition of the word "slave" as it pertains to BDSM. Many people believe that you are a slave if you consider yourself one, whilst others believe one must be in the emotional state of Total Power Exchange or Internal Enslavement for the term to apply.
There are differences of opinion about whether one needs to be currently owned to be identified as a slave. Many in the Master/slave community do not feel that ownership is a requirement.
Slave auction (BDSM) -- A slave auction is a social event, usually run as a fundraiser for charity and as a way to meet new people in the BDSM scene.
smotherbox -- is a type of dungeon furniture similar to a queening stool. It may be used in face sitting, where a man or woman acting in a Dominant role sits upon the face of a person acting in a submissive role, to emphasize the superiority setting. This may include receiving oral sex from the submissive person.
singletail --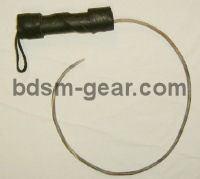 a whip
smart-ass masochist -- a masochist whom enjoys getting in trouble for the sake of being spanked or hurt.
Society of Janus -- a San Francisco, California based BDSM education and support group, and is the second oldest BDSM organization in the USA. It was founded in August 1974 by the late Cynthia Slater and Larry Olsen.
soft limit (BDSM) -- activities, words or scenarios which the person does not wish to experience for either physical or emotional reasons these can be soft limit which means their is a possibility with trust and time that they will do the experience of hard limits which mean no matter what it will never happen
spandex fetishism --is a fetishistic attraction to people wearing stretch fabrics or, in certain cases, to the garments themselves.
spanking bench/horse --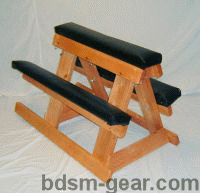 is a piece of furniture used to position a spankee on for punishment, with or without restraints.Originally benches were one of many objects, including specially modified or even designed contraptions, used for various judicial corporal punishments, including spankings.The explicit naming as spanking bench is typical for its main current use, for erotic spanking. They come in many sizes and styles, the most popular of which is similar to a sawhorse with a padded top and rings for restraints.
spanking paddle --

designed specifically for the use of spanking
speculum -- Speculum (medical), a medical tool used for examining body cavities.
spreadeagle -- The spreadeagle or spread-eagle is the position in which a person has arms outstretched and legs apart, figuratively resembling an eagle with wings spread.
spreader bar --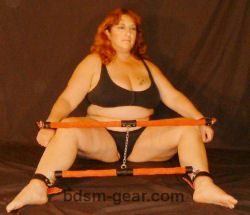 is a physical restraint used in bondage play. It is a stiff bar typically two to three feet (sixty to ninety cm) long with attachment points for restraints at each end. They may include extra attachment points along their length for collars, suspension play, or as anchoring points for ropes or chains. Not all spreader bars are designed to take the weight of a person however.
Some spreader bars can telescope so their length can be varied. Such bars are usually less strong than ordinary ones.
sting vs. thud -- depending on the type of implement used, can result in either a sting being delivered such as with a single tail or a thud, such as with a 101 lash flogger
stocking fetishism -- a sexual fetish relating to women's nylon stockings or 'nylons' as they were originally called. Stocking fetishists may particularly find sexual partners clothed in sheer nylon or silk stockings to be sexually stimulating whilst also witnessing such a partner (or any attractive female) slipping into or removing a pair of her stockings often results in a similar effect. This can also be related to transvestic fetishism and pantyhose fetishism. Some men find it enticing to collect and wear stockings, sometimes in their own private time, sometimes hidden under a pair of trousers.
stocks --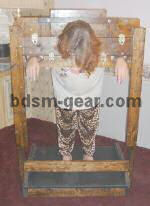 are a device used since medieval times for public humiliation, corporal punishment, and torture. The stocks are similar to the pillory and the pranger, as each consists of large, hinged, wooden boards; the difference, however, is that when a person is placed in the stocks, their feet are locked in place, and sometimes as well their hands or head, or these may be chained. The victim is in a sitting position.
Story of O -- is an erotic novel published in 1954 about sadomasochism by French author Anne Desclos under the pen name Pauline Reage
straitjacket -- is a garment shaped like a jacket with overlong sleeves. The ends of these can be tied to the back of the wearer, so their arms are kept close to their chest with possibility of only little movement.
strap-on dildo -- a dildo designed to be worn (usually in a harness) by one partner and used to penetrate another partner vaginally, anally or orally, used by both heterosexual and homosexual couples.
stuff gag -- A gag is usually a device designed to prevent speech, often as a restraint device to stop the subject from calling for help. This is usually done by blocking the mouth, partially or completely, or attempting to prevent the tongue, lips, or jaw from moving in the normal patterns of speech.
subdrop -- is a name given in BDSM to a feeling experienced by the submissive after a scene. The coming down after experiencing subspace and the return to normality can happen quickly, or slowly. It can be a nice experience, or a bad one. The effects, good or bad, can last almost no time at all, or they can go on for hours, even days. Subdrop is very subjective and personal.
submission/submissive (BDSM) -- (also known as D&s, Ds or D/s) is a set of behaviors, customs and rituals relating to the giving and accepting of dominance of one individual over another in an erotic or lifestyle context.D/s is often referred to as the "mental" side of BDSM. Physical contact is not a necessity, and can even be conducted anonymously over telephone, email or (more recently) instant messaging services. In other cases it can be intensely physical, sometimes traversing into sadomasochism. In D/s, one takes pleasure or erotic enjoyment out of either dominating or being dominated. Those who take the superior position are called Dominants, Doms (male) or Dommes (female), while those who take the subordinate position are called subs or submissives (male or female). A switch is an individual who plays in either role. Two switches together may negotiate and exchange roles several times in a session. Submissives generally outnumber Dominants, with male subs outnumbering Dommes by the widest margin, often three to one or more. "Dominatrix" is a term usually reserved for a female professional dominant who dominates others for pay.
subspace (BDSM) --in the context of a BDSM scene, is the psychological state of the submissive partner
sukaranbo -- a crotch rope (Sukaranbo or Mata Nawa) is a rope harness tied around the hips and passing between the labia to apply pressure to the female genitals. Sometimes a knot is tied at the position of the clitoris to intensify the pressure. The aim is to generate thoughts of sexual submission and excitement in the person thus tied. A crotch rope may be tied over the clothing or on to a naked person. Crotch ropes are also common in Western-style bondage.
suspension bondage --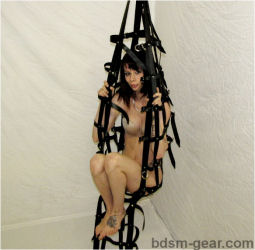 is a form of sexual bondage where a bound person is hung from one or more overhead suspension points. Suspension bondage is considered to carry a higher risk than other forms of sexual bondage.
suspension cuffs --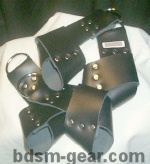 are a specialised form of bondage cuffs, designed to be used to suspend the body during suspended hogties and other suspension bondage without injury.
Wendy Swanscombe -- is an erotic writer from England published by Nexus Books. She writes stories involving both female submission and female dominance and including graphic descriptions of many forms of paraphilia and heavy S&M, including flagellation, spanking, erotic lactation, water-sports, and bondage. One of her most recent books was a pornographic adaptation of Bram Stoker's Dracula.
switch (BDSM) -- In BDSM, a switch is someone who participates in BDSM activities sometimes as a top and other times as a bottom or (in the case of domination and submission) sometimes as a dominant and other times as a submissive. Switches are very common; partners may switch roles based on mood, desire, or to allow each partner to experience their preferred activity. For example, a switch may be in a relationship with someone of the same primary BDSM orientation (e.g., two dominants), so switching provides each partner with an opportunity to realize his or her BDSM needs.
It is also common for people to switch with different partners, such as when a person acts exclusively as a top with one partner and exclusively as a bottom with another.
The act of "switching" may also refer to a spontanaeous reversal of roles, initiated by the bottom, who then takes control.
A person who engages in self-bondage can be viewed as taking both roles simultaneously.
switch (sexuality) In the field of human sexuality, a switch is someone who chooses to change from one sexual role to another; the act of doing so is called switching.
T
tape gag -- is usually a device designed to prevent speech, often as a restraint device to stop the subject from calling for help. This is usually done by blocking the mouth, partially or completely, or attempting to prevent the tongue, lips, or jaw from moving in the normal patterns of speech
temperature play --is a form of sensual play where objects and substances are used to stimulate the body's neuroreceptors for heat and cold for sensual effect. Substances can include water, oil, molten wax, ice, chocolate syrup, whipped cream, melted butter, chilled fresh fruit, and steamed vegetables. Objects can include cutlery, ball chains, necklaces, and many others, often pre-heated in hot water or chilled in ice water. Blindfolds are often used to intensify the effects, and bondage can also amplify the experience.
Safety precautions should be used which are appropriate for the materials, techniques, and body parts involved.
testicle cuffs -- is a ring-shaped device around the scrotum between the body and the testicles such that when closed it does not allow the testicles to pass through it. A common type has two connected cuffs; one for the scrotum and one for the base of the penis. They are one of many different gadgets for restraining the male genitalia.
thigh-length boots -- are boots raising along the legs up to and above the knees. They are often considered to be kinky boots, used as fetish clothing in boot fetish and shoe fetishism. Often, prostitutes wear thigh and crotch high boots.
tickling -- is the act of touching a part of the body, so as to cause involuntary twitching movements or laughter. Such sensations can be pleasurable or exciting, but (particularly in the case of relentless heavy tickling) are often considered highly unpleasant.
tie and tease --refers to the BDSM practice of tying up a partner for sexual pleasure and then denying him or her an orgasm (see also erotic sexual denial).
The teasee is tied down and then repeatedly stimulated without relief. Any form of tying or bondage may be used, but it is classically practised with a spread-eagle tie to a four poster bed. This is often the first area couples explore after experimenting with bondage since it combines pleasure with some form of power play. It may or may not be an entree to more painful play such as pinching and ice cubes. Interestingly, negotiation in BDSM usually focuses on what will or won't be done and not on the emotion. Tie and tease is inherently a psychological activity as well as a physical one.
tightlacing -- (also called corset training and waist training) is the practice of wearing a tightly-laced corset to achieve extreme modifications to the figure and posture and experience the sensations of a very tight corset. Those who practice tightlacing are called tight lacers. Some tightlacers call the corsets they wear training corsets.
top (BDSM) -- In BDSM, a top is a partner who takes the active, dominant role in sexual play (such as in flogging, bondage, servitude, humiliation). The top performs acts such as these upon the bottom.
A top filling the dominant role is not necessarily a dominant, and vice versa. The top may sometimes even be the partner who is following instructions, i.e., he tops when, and in the manner, requested by the bottom. A person who applies sensation or control to a bottom, but does so to the bottom's explicit instruction is a service top.
topping from the bottom --is a related BDSM term, meaning a person who wants to be dominated but simultaneously direct the top to do it according to their wishes. Topping from the bottom is usually considered poor practice amongst lifestyle BDSM devotees, although fairly common amongst the "BDSM curious" or newcomers who have had submissive fantasies but lack experience with a sexual dominant.
Total Power Exchange -- or TPE is a derivative of the concept of power exchange in a D/s relationship. The term refers to a relationship where the Dominant has complete authority and influence over the submissive's life, making the majority of decisions. TPE is occasionally referred to as 24/7, denoting that protocol in the D/s relationship is in play anytime, anyplace and the dominant partner gets complete power at all times of the day, though most consider these terms to have somewhat different definitions. More frequently, TPE is used interchangeably with the state of being a slave or being Internally Enslaved
transvestism -- is literally the practice of cross-dressing, wearing the clothing of the opposite sex, and transvestite literally refers to a person who cross-dresses. However, the word has often had additional connotations.
transvestic fetishism -- is a sexual fetish for the clothing of the opposite gender. It is one of a number of cross-dressing behaviours and is primarily a psychiatric term.
tweezer clamp --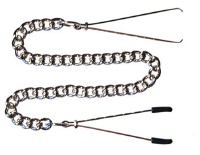 is a clamp used to stimulate the nipples by applying varying degrees of pressure. Its basic principle relies on restriction of blood flood to the erect nipple. They are often used in certain BDSM activities, on both men and women. The use of nipple clamps is often portrayed in the media as deviant or kinky sexual behavior.
U
urethral sounding -- is a medical activity using probes called sounds to increase the inner diameter of the urethra and to locate obstructions in the urethra.
Sounding in a sexual context involves inserting sounds and sometimes catheters into the urethra (sometimes stretching or dilating the urethra), and sometimes bladder, for the purpose of sexual pleasure, an activity generally associated with BDSM. A urethral sound may be connected to a special electrical device for use in erotic electrostimulation. The use of urethral sounding in this way can potentially be damaging to the urethra, although risk is most significant when an inexperienced partner is involved.
Sounds are also used for the purpose of prostate stimulation via the urethra. Some sounds known as "j sounds" have a curvature on the inserting end that are particularly useful for prostate stimulation
urtication-- is also performed by BDSM practitioners who use stinging nettles for sexual stimulation.
V
vacuum bed -- is a rubber device used for the purposes of rubber fetishism and bondage. It is usually comprised of two sheets of latex or a rectangular latex bag secured by a metal or plastic tube frame, used for sealing a person inside. A zip usually provides side entry, which must be re-zipped to allow for a perfect vacuum to form inside the vacuum bed.
Latex can be replaced by plastic sheeting and a PVC frame for those wishing to make one on a budget. Doing this however, could reduce sexual excitement, due to the loss of shiny / stretchy properties which latex is well known for, the feel against ones skin is also lost and depending on the strength of the replacement material it may allow some movement.
vanilla sex -- is used to describe what a culture regards as standard or conventional sexual behavior. Different cultures, subcultures, and individuals have different ideas about what constitutes this type of sex. Often it is interpreted as sex that does not involve such elements as BDSM, kink, or fetish activities.
Sarah Veitch -- writes CP (corporal punishment) fiction for consenting adults. She also writes features for publications such as Kane magazine on this often-misunderstood topic, noting that erotic chastisement is worlds away from the horror of domestic violence.
verbal humiliation -- when a person humiliates another intensely through disparaging comments. This has two main aspects:
Bullying, which can happen in everyday life, in interactions between people with different levels of authority or self-confidence.
Erotic humiliation, as an erotic activity (eg, in a BDSM context). Some people find the idea of being humiliated powerfully arousing, due to the intense and mixed emotions of being humiliated and demeaned.
violet wand -- a device used for the application of low current,high voltage (min 10kv to max 50kv typically), high frequency electricity to the body using a Tesla coil, originally sold as a quack medical device claimed to be useful in electrotherapy, though, since the 1990's, it has been used largely as a sexual stimulation device and by hairdressers to stimulate the scalp. It is especially popular among the BDSM community though antique models also popular among collectors of quack medical devices.
voyeurism -- a practice in which an individual derives sexual pleasure from observing other people. Such people may be engaged in sexual acts, or be nude or in underwear, or dressed in whatever other way the "voyeur" finds appealing. The word derives from French verb voir (to see) with the -eur suffix that translates as -er in English. A literal translation would then be "seer" or "observer", with pejorative connotations.
W
Wartenburg wheel --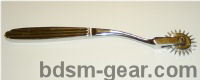 (also called a pinwheel or neurowheel) is a medical device for neurological use. It was originally designed by Dr Robert Wartenberg to test nerve reactions as it glided across the skin. A Wartenberg wheel is generally made of stainless steel with a handle of approximately seven inches in length. The wheel, which has evenly spaced radiating sharp pins, rotates around as it is rolled across the flesh. A disposable plastic version is available. Wartenberg wheels are a popular BDSM toy
watersports -- (sexual practice) -- Urolagnia (also known as urophilia or undinism) is a sexual fetish with a focus on urine and urination.People with urolagnia often like to urinate in public, or urinate on, or be urinated on by other people, and may drink the urine. The consumption of urine is urophagia. Some like to watch others doing these things. These activities are often described by the euphemisms "golden showers" or "watersports" (which should not be confused with water sports).
As a paraphilia, urine may be consumed or the person may bathe in it. Other variations include arousal from wetting or seeing someone else urinate in their pants or underclothes, or wetting the bed. Other forms of urolagnia may involve a tendency to be sexually aroused by smelling urine soaked clothing or body parts. In many cases, a strong correlation or conditioning arises between urine smell or sight and the sexual act. For some individuals the phenomenon may include a diaper fetish and/or arousal from infantilism. Watersports may also be used in a BDSM scene as a form of humiliation, sometimes involving desperation until incontinence or infantilization, sometimes physical humiliation associated with being urinated on or pressured to consume urine. In some cases, a person is aroused by merely staging situations where others can either witness that person wet his or her clothing or smell his or her urine scent.
Urolagnia is sometimes associated with, or confused with, arousal from having a full bladder or a sexual attraction to someone else experiencing the discomfort or pain of a full bladder, a sadomasochistic inclination.
wax play -- is a form of sensual play involving warm or hot wax usually dripped from candles or ladled onto a person's naked skin. Wax play may be combined with other BDSM or sexual activity.
wet and messy fetishism -- is a form of sexual fetishism whereby a person becomes aroused when substances are deliberately and generously applied to the naked skin, or to the clothes people are wearing.
Messy substances can include whipped cream, mud, shaving foam, custard, pudding, chocolate sauce, Japanese-style lotion, oil or gunge/slime, etc. Wet substances are mainly water but can also include other liquids such as fruit juice or milk). The interests of WAM fetishists vary quite widely in terms of preferences for clothed or unclothed WAM, self or non-self WAMing, facial or non-facial coverage and the nature of the substances used.
whip -- is a tapered flexible length of either a single cord or plaited (braided) leather or other material, commonly with a stiff handle. Whips are used for two purposes, either to produce a loud sharp sound, or to inflict pain.
Whitehead gag -- in the context of surgery or dental surgery, a gag is a device used to hold the patient's mouth open when working in the oral cavity, or to force the mouth open when it cannot open naturally because of forward dislocation of the jaw joint's intraarticular cartilage pad. Applications for medical gags include oral surgery and airway management. Gag designs, like other medical instrument designs, are often named after their invertors. Common examples of medical gags include the Jennings, Whitehead, and Hallam gags.
WIITWD --is an acronym in the alternative sexualities community for "What it is that we do". It is also sometimes written WIIWD (What it is we do). It is intended to include all activities that the mainstream would consider "Kinky". The term was developed in internet chatrooms when individuals pointed out that the popular term BDSM applied to only a fraction of the community. Some people, such as those solely into infantilism or cross-dressing do not get involved at all in the bondage, D/s or Sadomasochism scenes, and as such reject the label BDSM, but still consider themselves part of the alternative community. Many also eschew the terms "Fetish" or "Kink".So in an attempt to be all-inclusive WIITWD was developed, and has enjoyed some popularity.
X
X-cross--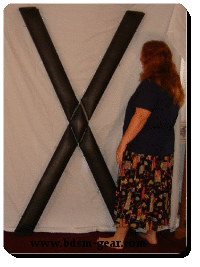 Saint Andrew's Cross, or crux decussata is a heraldic symbol in the form of a diagonal cross or letter X, though it is never called the letter X in heraldry. Legend relates it to a diagonal cross that Saint Andrew is said to have been martyred on.
Y
YKINOK -- is an acronym for "Your Kink Is Not OK" (used on Usenet since at least 1993), and is generally used in the BDSM sub-culture to deprecate those who condemn any sexual preferences other than those actual practices (not mere fantasies) which violate the principles of "Safe, Sane and Consensual" or "Risk Aware Consensual Kink." In other words, "YKINOK" is not actually commonly used to condemn other people's kinks, but is used to condemn those who condemn other people's kinks.YKINOK is contrasted with YKIOK,IJNMK, which means "Your Kink Is OK, It's Just Not My Kink." YKIOK,IJNMK was one of the cornerstone ideas of the alt.sex.bondage newsgroup in the 1990's and embodies the principle of tolerating other people's consensual kinks even if one finds them uninteresting or repulsive.
Z
zentai -- Skin tight suits that cover the entire body are commonly called zentai (from the Japanese . This is likely a contraction of zenshin taitsu or "full-body tights". Zentai is most commonly made using nylon/spandex blends, but other materials such as cotton and wool are used as well.
zipper (BDSM)-- a string of clothespins or other clips, held together loosely by a cord or light chain.The skin is clipped in the clips for a short time, then the cord is pulled causing the clips to be pulled off the skin one by one in sequence causing a "zip" sound, and a unique sensation. Zippers come in many sizes and varied numbers of clips, as many as a hundred can be used in one zipper. They are a very popular home-made BDSM toy.